Association for Women in Mathematics Student Chapter of Rutgers University
This website is no longer being updated. Please go here for the new website.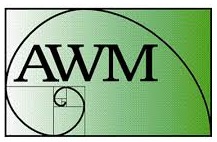 2022 Executive Committee
President: Corrine Yap
Vice President and Treasurer: Tamar Blanks
Secretary: Kayla Gibson
Faculty Advisor: Fioralba Cakoni
The Association for Women in Mathematics is a national organization that encourages the participation of women in mathematics while aiming to inspire and empower individual students, faculty, and researchers and works to bring about institutional and societal change benefiting all.
This chapter was founded in 2018 by a group of graduate students. Our activities include undergraduate outreach, professional development and inclusivity events, and lunch with invited seminar speakers.
Membership is open to all students regardless of gender identity or expression, race, color, religion, age, national origin, sexual orientation, or disability. If you would like to join or receive news of upcoming meetings and events, email Corrine Yap.
News: We've been awarded the 2021 AWM Student Chapter Award for Fundraising/Sustainability! You can see the full citation on the Rutgers Math department website.
2021-22 Events
Tuesday Tea Time: every other Tuesday at 3PM Hang out with other AWM members over tea and coffee!
Weekly Lunch: every other Friday at 12:30PM Hang out with other AWM members over lunch!
Monday, April 4 in Hill 703 at 7pm: Let's Talk Math Join AWM members for a workshop on the practical aspects of giving a math talk. We'll have both discussion and active participation (including some theater-inspired voice and speech exercises)!

Tuesday, March 8 at 12:30PM over Zoom: Open House Lunch with Prospective Students
Monday, February 21 in Hill 703 at 6PM: Cocoa and Coloring! Take a break from work and destress with AWM members over a cup of hot cocoa and some coloring and crafts!
Thursday, January 27, 7:30pm via Zoom: Spring Welcome Meeting
Fall Semester: AWM Book Club x+y: A Mathematician's Manifesto for Rethinking Gender by Eugenia Cheng We'll meet every other week to discuss a chapter from the book. Details will be sent to the book club mailing list; contact Corrine if you'd like to join. Thank you to the Rutgers Math Department and the AWM Student Chapter Awards for providing funding!
Wednesday, November 10, 6:30PM in Hill 703: CV and Website Workshop Join AWM members for a workshop on developing your academic CV and professional website! Whether you have maintained a website for years or haven't started a CV yet, all are welcome. Our focus will be on academic jobs and opportunities at the graduate level. The workshop will be facilitated by the AWM organizers, with advice solicited from faculty members across a variety of academic institutions.
Monday, October 4, 6:30PM via Zoom: LSAMP Info Session Hosted by Sarah Catovic; come learn about the Louis Stokes Alliance for Minority Participation (LSAMP). The program seeks to increase the number of historically underrepresented students graduating with a bachelor's degree in STEM fields. It provides a lot of really excellent opportunities, which you can find more about at the info session.
Sunday, September 19, 7PM via Zoom: Fall Welcome Meeting
Weekly Lunches: alternating Thursdays and Fridays, 12-1PM via Zoom Hang out with other AWM members over lunch!
Monday, April 19, 6:30-7:30PM and Wednesday, April 21, 5-6PM via Zoom: Conversations with Mathematicians What can you do with a Ph.D. in math? Meet four guests who will tell us about their career journeys within and outside of academia.

Wednesday, March 24, 7PM: AWM Film Screening A virtual screening of Secrets of the Surface: The Mathematical Vision of Maryam Mirzakhani The Zoom will be open at 7PM, and the screening will begin at 7:15PM. The post-film discussion will be from 8:30-9PM. If you would like to watch the film ahead of time, please contact Corrine for a link. Thanks to the Rutgers Math Department for providing funding!

Monday, March 8, 6:30-7:30PM on Discord: AWM x RU Mathcord AMA In celebration of International Women's Day, we are partnering with the Rutgers Math Discord to host an Ask-Me-Anything with several mathematicians from underrepresented genders and across academia.

Thursday, March 11, 12-1PM via Zoom: Open House Lunch Our usual weekly lunch, but with prospective math Ph.D. students invited! This will take the place of our annual Open House Tea.
November - February via Zoom: AWM Book Club Weapons of Math Destruction by Cathy O'Neil We meet every other week to discuss two chapters from the book. Details will be sent to the book club mailing list; contact Corrine if you'd like to join.
Friday, February 5, 5:30PM via Zoom: Game Night! Come hang out and play games with other AWM members!
Monday, November 30, 7:30PM via Zoom: Application Workshop. This is a follow-up to RUMA's REU Q&A panel, so our main target will be developing REU applications but anyone with any sort of math program application is welcome to join! (e.g. grad school, math-related internships). You can bring a draft or outline of a personal statement, CV, or any other application materials. Our goal will be to give you feedback on drafts or advice if you don't know where to start. Facilitators are mathematics professors Kristen Hendricks and Alex Kontorovich.
Thursday, November 5, 7PM via Zoom: REU Q&A Panel hosted by RUMA (joint event) REUs: What are they? Why are they cool? How should I apply to them? Find out the answers to these questions, and more! This will be a panel event with

Michael Beals: Distinguished Professor of Mathematics,
Lazaros Gallos: Associate Director and Research Professor at DIMACS and director of the DIMACS REU,
Corrine Yap: Graduate Student in Mathematics,
Aaron Scheiner: Undergraduate ('22), Mathematics Major,

Tuesday, September 15, 4:15PM via Zoom: Fall Meet-and-Greet! Learn about the events we're planning this semester, give input on what events you'd like to see, and introduce yourself to other chapter members.
Thursday, March 5, 12PM in Hill 701: AWM Lunch Series - Contacting Prospective Students, Part 2
Thursday, February 13, 1PM in Hill 701: AWM Lunch Series - Contacting Prospective Students
Monday, September 30: Workshop on Building Inclusive Communities A workshop in which participants actively engage with the ways in which society has taught us to think, feel, and behave towards different identities. Through several activities, we will reflect, dialogue, discuss, and debrief where these messages came from and how they fit into systems of privilege, oppression, power, and bias. Facilitated by Lindsay Jeffers, Assistant Director for Programming at the Rutgers Center for Social Justice Education and LGBT Communities.
Saturday, September 28: WoMAN UP Conference at UPenn, for undergraduate women applying to math graduate school
Thursday, April 25: Lunch with Berit Stensones, invited speaker for the Rutgers Complex Analysis seminar
Wednesday, April 17: AWM PD Lunch Series - How to Ask Questions
Friday, March 15: Annual Open House Tea
Thursday, March 7: AWM PD Lunch Series - Elevator Pitch Workshopping (with invited faculty input)
Thursday, February 14: AWM PD Lunch Series (Professional Development for Grad Students and Post-Docs) - Elevator Pitch Brainstorming
Tuesday, November 27: Lunch with Kristina Plazonic, director of the Rutgers Office of Advanced Research Computing.
Thursday, October 18: Graduate student and post-doc lunch
Monday, September 17: First meeting of the school year!
Wednesday, May 2nd: Lunch with Loredana Lanzani, invited speaker for the Rutgers Complex Analysis seminar.
Saturday, April 28th: Rutgers Day "Women and Math"-themed booth and a performance of Corrine Yap's solo show, Uniform Convergence.
Friday, April 13th: Lunch event as part of the 2018 AGNES conference.
Wednesday, March 28th: Lunch with Ana-Maria Castravet, invited speaker for the algebra seminar.
Friday, March 9th: Women's Tea for the Graduate Student Open House. A casual meeting of current and prospective graduate students along with faculty. Tea and snacks will be provided.
Monday, February 26th: Lunch with Rohini Ramadas, invited speaker for the Rutgers Algebra Seminar.
February 7th: The AWM Chapter of Rutgers is officially founded!